Selectra Pro XS
More than other entry-level systems in a cost effective package. Throughput is up to 75 photometric tests/hour.
The Selectra ProXS provides a fully integrated chemistry solution for smaller or satellite laboratory locations. Robust, compact and easy to use, with a discrete random access throughput up to 75 tests per hour, the Selectra ProXS system is the ideal BenchTop solution for
primary, STAT or back-up testing needs. This system offers minimal maintenance and effective use of consumables to provide a truly cost effective operation.
Fully automated clinical chemistry analyzer
Up to 75 tests / hour
Superior test menu
Easy to train, operate and maintain
Minimal water consumption
Enhanced turnaround time
Automated request sample and reagent management
Delivering trouble-free results laboratories can trust!
Processing Center
Sampling probe with integrated mixer and level sensing
The unique sampling probe streamlines sample and reagent level sensing, aspiration and mixing. That reduces complexity, enhances uptime and provides collision protection.
Combined sample and reagent rotor with cooling dome
The rotor ensures optimum temperature and humidity are maintained providing reagent on-board stability and integrity.
• 30 on-board reagent positions (inner ring with 15 cooled reagent positions).
• 25 sample, control and calibrator positions.
Disposable cuvettes
Reduced maintenance and water consumption while improving test turnaround time.
Bar code reader: test requisition, sample and reagent identification
Optional reagent and sample patient bar code further simplifies operations and eliminates potential errors.
Throughout
Reagent and Sample System
Inner rotor ring:
15 reagent positions for 10 ml, 25 ml and 50 ml reagent bottles
Optionally cooled to 10°C +/ 4°C at normal laboratory conditions.
Outer rotor ring:
25 positions for (STAT) samples, controls and calibrators
15 positions for reagent bottles
All positions fit 13x75 mm primary and secondary tubes and pediatric cups
All positions can be used for calibrators, controls, normal, pediatric and STAT samples.
Pipetting System
100 μl reagent syringe:
- R1 volume 110-400 μl
- R2 volume 0-180 μl
-R3 volume 0-180 μl
- Programmable in 1 μl steps
100 μl sample syringe:
- Sample volume 1-30 μl
- Programmable in 0.1 μl steps
- Programmable dilution ratios 1:5 up to 1:100 in one step increments with 3 possible diluents
 Pre-heated probe with level detection, collision protection and integrated mixer.
Cuvette Rotor
Disposable cuvette rotor with 48 cuvettes
Minimum measurement volume 220 μl
Measurement temperature 37°C, controlled by Peltier elements.
Light Source
Quartz-iodine lamp 12V-20W.
Wavelength Range
Optical unit with 8 position filter wheel
Automatic wavelength selection
340, 405, 505, 546, 578, 620, 660 nm standard installed
One free position
Other wavelenghts available on request.
Photometric Range
-0.1 to 3.0 Absorbance
Resolution 0.001 Abs.
Analytical Modes (Single, Dual and Triple reagent system)
Kinetic measurement with linearity check
Mono and bichromatic end point measurement with or without bichromatic reagent blank and/or sample blank correction
Two point measurement; with or without slope blank
Graphic plot of all measuring points
Automatic rerun with sample reduction
Non-linear calibration curves
Prozone check for immunology tests
Cut-off declaration
Calculated tests.
Quality Control
Up to 15 different controls can be defined, 3 per test
Westgard rules
Levey-Jennings plots
Quality control statistics.
Water Consumption
Standards and Regulations
Dimensions
89 x 58 x 60 cm (W x H x D)
No peripherals
Weight: 67 kg.
Interface
State of the art Host-Query interface available
Host: RS 232 or Ethernet (TCP/IP) through LIS-2A protocol.
Environmental Conditions
Temperature: 15 – 32 °C
Humidity: 15 – 85% RH
Altitude: up to 2,000 m
Plumbing: No dedicated water or drain required
Electrical:
- Voltage: 100 – 240 Vac
- Frequency: 50 – 60 Hz
- Power (max): 350 VA .
Options
Bar Code Reader
Hand held CCD bar code reader used for test requisition, reagent identification and automated programing of assays, controls, and calibrators.
Printer
Printer supported by MS Windows™
ProActive Maintenance Kit
Complete parts kit for annual preventive maintenance.
The enhanced test menu provides flexibility in reagent containers and increased on-board stability. New features enable automated programming of assays, with bar coded reagents, calibrators and controls streamlining operations and reducing errors. Optimum sized packaging further enhances efficiency.
Dedicated line of ready to use, liquid-stable assays, packaged to fit the BenchTop laboratory
Tied to proven methodologies, referenced and traceable to industry standards
Standardized results across ELITech Clinical Systems Selectra Family
Ongoing commitment to develop new methods and enhancements
Substrates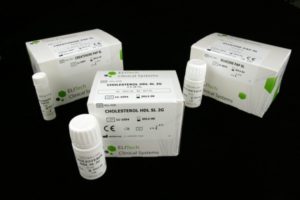 Albumin
Bilirubin, Direct
Bilirubin, Total
Blood Urea Nitrogen (BUN)
Cholesterol
Cholesterol, HDL
Cholesterol, LDL
Creatinine
Glucose
Microprotein
Total Protein
Triglycerides
Uric Acid
---
Enzymes
Alanine Aminotransferase (ALT/GPT)
Alkaline Phosphatase (ALKP)
Amylase
Aspartate Aminotransferase (AST/GOT)
Creatine Kinase MB (CK-MB)
Creatine Kinase NAC (CK-NAC)
y-glutamyl transpeptidase Plus (GGT Plus)
Lactate Dehydrogenas (LDH)
---
Electrolytes
Calcium
Iron
Magnesium
Phosphorus
Total iron binding capacity (TIBC)
---
Specific Proteins
α 1-acid glycoprotein (AGP or AAG)
Apo A1
Apo B
C-reactive Protein (CRP)
Haptoglobin
Hemoglobin A1c (HbA1c)
IgA
IgG
IgM
Microalbumin
Prealbumin
Transferrin